Defining Material Handling | What Is Material Handling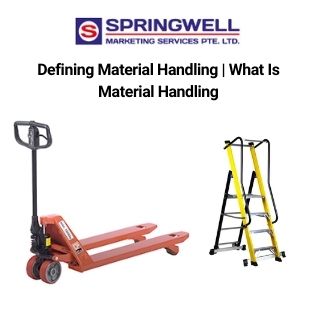 Material handling according to dictionary.com is defined as: the loading, unloading, and movement of goods, as within a factory or warehouse, especially by the aid of mechanical devices (1).
However, in actual fact, material handling is much more than the handling of inventory.
It is the movement, protection, storage and control of materials and products throughout their lifespan of manufacturing, warehousing, distribution, consumption, and disposal.
Material handling encompasses a range of components to keep the supply chain running. This includes a variety of equipment types (manual, semi-automated, and automated) and systems (single-level storage, multi-level storage, conveyors, etc.).
Efficiency Is Key
The name of the game is efficiency when it comes to designing your material handling system. When reacting to and planning for client and warehouse demands, efficient logistics are a must-have. Because inbound inventory's material handling processes are just as essential as outbound ones.
Inbound logistics, for example, materials handling is another name for corporate facilities. Materials handling requirements must be met not just for the company's departmental needs, but also to fulfil their customers' demands.
The Four Parts of Material Handling
Material handling process has four dimensions that impact efficient product flow through your warehouse.
(1) Movement
For movement, this includes moving products from the incoming inventory front to outgoing inventory end.
The term "small-scale logistics" would involve the use of a forklift, for example, being used to transfer items from storage to a truck for transportation.
Large-scale distribution centers, on the other hand, use more sophisticated material handling equipment such as conveyor systems to move goods throughout a large facility.
(2) Time
This includes: coordinating how long goods stay in storage and receiving inventory-to-shipment timing – that impact the receipt of an order.
All in all, to ensure that everything gets delivered on time.
(3) Quantity
This includes: the management of the amount of product to be stored in the allotted space.
(4) Space
This includes: how much space available for the allocation of the products and goods.
Both quantity and space will ensure products have a space to be stored and subsequently transported out.
Material Handling Ensures Efficiency In Logistics System
All in all, material handling requires much coordination – between the 4 components.
Improved efficiency is a result of faster identification and retrieval of goods, as well as improved material handling. By making the logistics system respond quickly and effectively to plant and customer demands, material management increases productivity. Locating stock, accurately filling orders, efficiently transporting items to customers.
At Springwell Marketing – material handling equipment Singapore specialist, we take pleasure in matching the correct product to the customer's requirements. When considering your material handling demands, it is critical that your logistics handling be as efficient as possible. Should you need assistance relating to material handling, contact us immediately to discover which material-handling equipment you would need for your business.