Factors to consider before buying the right electric pallet truck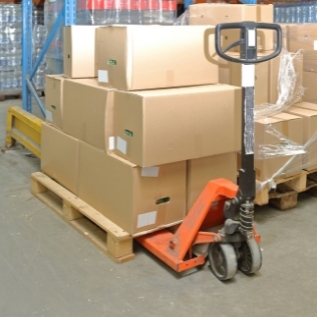 Electric pallet jacks can help you avoid workplace accidents and make warehouse tasks more efficient and profitable. Pallet jacks that run on electricity are a simple yet cost-effective way to lower manual-handling injuries and make warehouse operations more efficient and productive.
Fully electric jacks have both power drive and lift, so they don't need to be pumped manually. Fully electric jacks have both power drive and lift, so they don't need manual pumping to raise weights. For indoor usage, they're an excellent option because they're compact and manoeuvrable in comparison to a forklift. If you opt for a ride-on model, you'll just need a licence.
Industries that would benefit from electric pallet jacks include: manufacturing industry, retail, foodservice industry and chemical factories.
Load Capacity
Pallet jacks are available in a range of capacity ranges, with loads starting at around 1,000 kg and going up to 2,000 kg. You would need to make sure the jack can support the weight of typical pallet loads that you move and lift. An overloaded jack might fall over and break if it is unable to handle the weight in the long term.
Outdoor or Indoor?
The next question to ask is: do you use the pallet truck indoor or outdoor. This is important as some pallet trucks are catered for uneven ground.
Lift Height Capacity
To lift loads of up to 2 tons, your jack must be able to lift them to the required height. Electric pallet jacks have a wide range of lifts – from around 1,200mm to even 5,000mm or more.
A pallet truck can lift an average of 800mm in lift height.
Pallet sizes
It is important to check the standard pallet sizes that you would be using, and choose a pallet jack that will suit those requirements.
If you're constantly stacking pallets that don't match the typical dimensions, a jack that can handle various pallet sizes, such as an electric counterbalance stacker, is a good investment.
Pedestrian or ride-on:
A pedestrian or walkie pallet jack (handle for the operator to drag around) should be sufficient in many warehouses.
A ride-on / stand-on version, on the other hand, may save time and help efficiency in a bigger business. It's vital to note that a ride-on model requires a forklift license to operate.
A person standing on a platform at the rear of the truck drives the electric ride-on pallet truck. This enables you to move it to where it's required via a steering wheel, buttons, or lever. It's intended for long-distance travel rather than non-ride-on pellet trucks.
Load pallets into an HGV in the best way with a ride-on pallet truck. When required, foldable platforms on ride-on pallet trucks allow them to function as a tiny walkie pallet truck.
Storage space
Nowadays, most electric jacks are extremely small and efficient. When not in use, you may need to think about the amount of storage area you have available for storing them. Some versions also include foldable platforms to save space when not in use.
Budget
Naturally, you'll want to keep an eye on your budget while shopping for an electric pallet jack. Electric jacks are a very cost-effective option in industrial settings and differ in price little from manual equivalents.
Choosing a Provider In Singapore (Is there proper after sales support?)
It may definitely be less costly to shop from various suppliers overseas, however one issue to worry about is the after sales servicing and warranty.
Getting a local pallet truck Singapore provider may be helpful as they are able to provide proper after service care for your product in the long-term. In addition, they would most likely be able to cater to your local requirements.