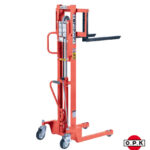 OPK Power Lifter (Economy Type)
Availability: In Stock
S Series
Built-in automatic cargo check valve device that emphasizes safety.
Compact, lightweight power lifter is capable of performing small radius turns.
Built-in fast-lifting device that increases the climbing speed by 2 to 3 times. 
Also available in Semi-Auto Economy Type
Download The Product Information Sheet
Still unsure with what we can give you? Talk to us.
Contact us