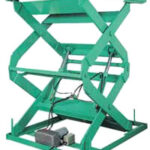 Bishamon Heavy Duty Lift Table
Availability: In Stock
The Simple solution to Lifting Heavy Loads to a Comfortable Working Height.
Safety Clearance
More than 30mm scissor leg clearance for safety (Except 2X series)
Maintenance Bar
Scissor mechanism fitted with mechanical safety restraint 2X Series has a detachable bar
Safety Toe Guard
Safety Toe Guard fitted all-around platform to stop downward travel of the table in the event of an obstruction. (UX Series only)
Control Switch
Your choice of Foot or Push Button Control
Deadman Remote Control
24V Low Voltage Control with safety cover (UX Series only)
Still unsure with what we can give you? Talk to us.
Contact us