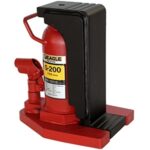 Eagle Toe Jack
Availability: In Stock
A toe jack (also known as a floor jack) is a bottle jack attached with the toe that is designed to lift items with very low or high clearances as long as 20 mm of the gap
Since the toe structural part has two lifting points, i.e. its toe and head points, it can be used for much wider applications than before.
Their insertion sockets can rotate so that their operators can handle pumping at the best positions.
They are equipped with a safety valve to prevent overload, enhancing work safety.
Download The Product Information Sheet
Still unsure with what we can give you? Talk to us.
Contact us