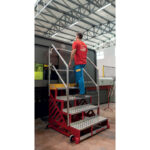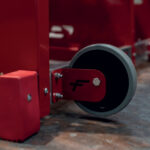 Faraone SGA System
Availability: In Stock
System of professional folding stairs with aluminium anti-slip steps
Individual modules of different sizes have wide, non-slip, corrugated aluminium steps.  The modules are available in 2, 3 and 4 steps versions. SGA stairs are safe and very comfortable.
An additional advantage is the enlarged end platform for easy access to the operating and maintenance areas. The maximum width of the stairs is 240 cm.
The SGA system complies with the EN 14183 standard and the EN 14122 standard for machine access. It also complies with the Italian standard DL 81/08.
Download The Product Information Sheet
Still unsure with what we can give you? Talk to us.
Contact us