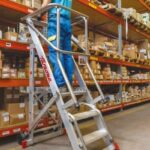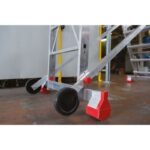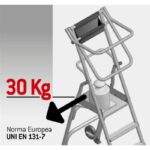 Faraone SMT Warehouse ladder
Availability: In Stock
Bunk ladder according to EN 131.7 with lateral stabilizers
Available from 3 to 17 steps
Maximum capacity 150 kg
Maximum working height 5.9 m
Built according to the EN 131.7 standard, it passes the lateral overturning test making it the safe platform to work. Pass the resistance tests of over 50,000 duty cycles. Tested by the Politecnico di Milano, each staircase is equipped with a certificate of conformity and testing.
Resistance, stability, and safety
The comfortable non-slip worktop in almond-shaped aluminum (52×62) gives the operator ample room to maneuver.
The side handrail in shaped aluminum tubing allows the operator a secure grip.
The telescopic stabilizer allows a perfect leveling of the staircase to the floor.
The protection system allows easy access and guarantees work in total safety.
Comfort
Comfortable 15 cm steps
The inclination of the ladder of 60 ° makes the ascent and descent easy.
Convenient and quick movement thanks to the rear wheels.
Foldable stabilizers and small footprint for easy transport.
Download The Product Information Sheet
Still unsure with what we can give you? Talk to us.
Contact us