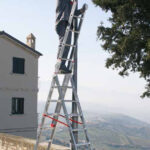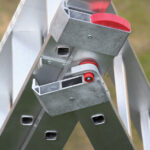 Faraone Triple Sided Extension Ladder
Availability: In Stock
Multi-purpose three-element scissor ladder with extension
Available from 7 + 8 + 8 to 14 + 15 + 15 steps
Maximum capacity 150 kg
Maximum working height 4.5 m
Can be used in support as a single, lame or scissor ladder
Built according to the EN131 and EN131.2 2018 standards, it passes the resistance tests of over 50,000 work cycles
Tested by the Politecnico di Milano, each staircase is equipped with a certificate of conformity and testing

Resistance, stability, and safety
8 cm front steps and 3 cm folded rear rungs for intensive use
2.5 mm reinforced section profiles
Ergonomic oversized stabilizers in non-slip PVC
Wide aluminum uprights
Supplied with anchoring strap in line with the requirements of the DL81. The safety lashing straps secure the ladder further increasing stability.
Download The Product Information Sheet
Still unsure with what we can give you? Talk to us.
Contact us