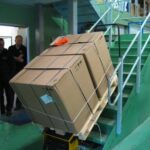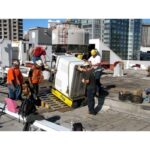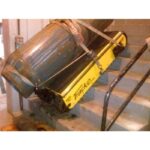 Movex Track-O Twin-Track 66
Availability: In Stock
The most ergonomic material handling solution, the Track-O Twin-Track 66, has made Movex known throughout the world. This model is highly prized by specialists in material handling for its load capacity, its endurance, and its versatility. This "basic" model offers a number of optional accessories such as our Greengo handling system, Jib crane, lift table, or any other accessory that will enable you to increase the efficiency of your material handling solution.
The Track-O Twin-Track 66 has a load-bearing capacity of nearly 1,100 lbs (503 kg) on stairs. This material handling equipment is used mainly when staircase landings are narrow or where there is limited room to move. The Twin-Track 66 lifting platform can climb stairs with an angle of inclination of nearly 40 degrees. Easily moved from one place to another on a trailer or in the box of a transportation vehicle.
Versatile & multifunctional equipment
Can easily be fitted with a wide variety of options & accessories
Contributed to making Movex known worldwide
Moves loads from 700 lb to 1100 lb (317 kg to 498 kg) on stairs at 40°
Turning radius of 70 in. (177.8 cm)
Can be operated in light conditions of snow, mud, sand & gravel
Fits in a pick-up box or trailer
Download The Product Information Sheet
Still unsure with what we can give you? Talk to us.
Contact us