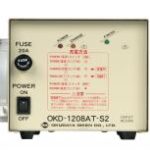 OPK Semi-Auto Order Picker
Availability: In Stock
An electric picking lifter with a loading capacity of 200 kg and a maximum of 2730 mm, which is ideal for picking work in warehouses and backyards.

With a compact design that allows you to freely move the aisles in the warehouse and a two-point parking brake, you can work safely and comfortably in high places.
Equipped with a charger with a cord reel that can be charged from a household 100V outlet.
Still unsure with what we can give you? Talk to us.
Contact us