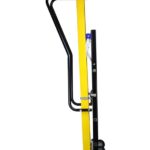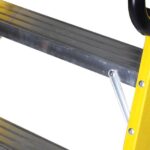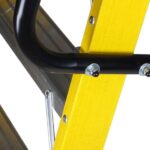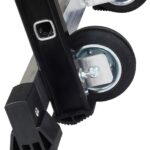 SVELT Fiberglass Platform Ladder
Availability: In Stock
Electrically insulated heavy-duty ladder designed for operators who work near cables, sockets or other sources of electricity.
The fiberglass stiles offer electrical insulation and the non-slip knurled aluminum steps give the ladder lightness and maneuverability.
It conforms to European Standards UNIEN131/7.
 Reinforced aluminum platform (cm 43×44) with accidental anti opening system
 Ergonomic reinforced non-skid rubber feet
 Non-skid steps: depth mm 80; distance mm 260
 Guardrail cm 80 on all 4 sides
 Screwed stabilizer
 Anti-opening safety straps
 Removable shaped handrails painted with epoxy powders
 Moving wheels diam.125 mm
 Outer ramp width cm 52
Front stile section mm 80×25
Back stile section mm 57×27
 Steel opening hinges
 Thermo-shrinkable plastic package
Download The Product Information Sheet
Still unsure with what we can give you? Talk to us.
Contact us