Types of stackers and their purposes | which to buy?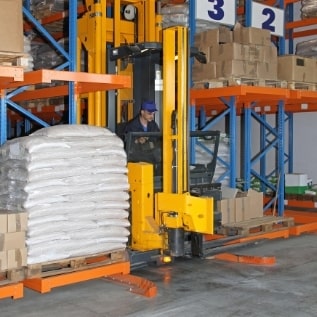 Stackers are a kind of pallet jack that are used to move goods on pallets. They can easily lift extremely heavy weights throughout your industrial warehouse storage facility.
Hand Pallet Stackers are ideal for raising and lowering weights of up to 5 tonne (5 Tonnes). The majority have forks and operate similarly to forklifts, while others include load-rated tables for placement.
Why buy a stacker?
Modern supply chains are often made up of racks that reach heights of 4 meters up to over 13 meters. Most items are moved and stored using an electric stacker before being sent along a conveyor belt.
Most of the time, it's the first machine a customer purchases once a pallet truck or hand truck is no longer enough to hold all of their products. Pallet lifters come in a variety of forms and have various functions, including load capacity, lifting height, and energy storage systems.
Let us now demonstrate the distinctions in our machines and offer you a guide to selecting the best pallet stacker.
1. Manual pallet stacker
The Stacker vehicles, also known as hydraulic lifters, are manually driven. They generally have a lifting capacity of 1000 kg and vary in price depending on the features.
A motorised push-type lifter is a kind of forklift that does not require a pallet and can lift from 1 to 100 kg at heights ranging from 1.6 m to 3.1 m without the need for additional supports, depending on its design. Although some of these machines include a fast lift option that allows them to handle loads.
Essentially, these pallet lifters are not designed for frequent usage and subject the user to strain and pain, as well as low efficiency.
​
2. Mono Mast Stacker
Electric stackers with mono mast are usually full electric trucks that drive both electric and lift-elevator. The load capacity varies from 1000 to 1200 kg depending on the application. They can carry most loads on euro pallets or other load carriers due to their load capacity of 1000Kg or 1200Kg.
A mono mast stacker is a machine that can be used to raise products to an ergonomic working height, resulting in increased productivity while reducing stain for the user.
Backflips are a standard feature on these vehicles, and they may also be equipped with a remote control for easier operation while lifting or lowering in a stationary position.
The Mono Mast stackers may also be utilised as a lift table and stacker truck when required. It's a low-cost, multi-purpose stacker that may be used as a lift table and stacker truck if necessary.
​
3. Electric pallet stacker
The most frequently used completely electric stacker has a duplex mast and is typically utilised for routine stacking in small to medium-sized warehouses, retail outlets, and small workshops. Electric pallets are used to move, lift, and stack pallets.
When it comes to selecting the best electric pallet stacker for your needs, there are a variety of variables to consider, including budget, space, access to electricity, lifting height and lifting capacity. The capacity decreases after this lifting height while the trucks lift their rated capacity of 1000Kg up to 2500mm.
Electric wheelchairs are available in a variety of styles and battery technology to match the demands of each client.
The great thing about this is that it only takes a few minutes to charge up. There are no water refills or maintenance requirements for the battery. These trucks would usually have on-board chargers that allow for easy transportation throughout the warehouse.
4. Ride-on pallet stacker
If you need to stack in heavy-duty usage with longer movement distance, an Electric Ride-on pallet stacker is the way to go. These machines are designed for single or multiple shifts and have a foldable platform. The truck may be utilised as a normal walkie stacker at low speed when the platform is lowered. The
​